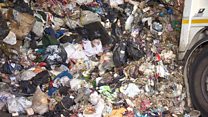 Video
The Cambridgeshire landfill where half the rubbish is recyclable
About half of the rubbish ending up in a county's landfill could have been recycled instead, waste workers have said.
Cambridgeshire spent £10m last year on the disposal of rubbish in black bags, of which a large amount contained food waste, paper and plastics.
All of it ends up being buried underground in a site the size of 200 football pitches, 20m (65.6ft) deep, which is expected to be filled in about five years.
Trevor Nicoll, from Greater Cambridge shared waste service, said: "Sometimes people just don't realise that they could put it in their compost bin, their green bin. Other times, people just need to take that little bit more care."
Go to next video: What you can and can't recycle in your food shop