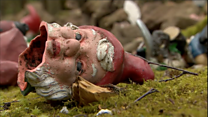 Video
Gnomes decapitated in second attack at tourist attraction
As many as 100 gnomes have been destroyed at a Warwickshire tourist attraction for a second time in a year.
Many of the inhabitants of The Gnome Village at Echills Wood Railway had been donated by local families after a similar collection was smashed up last September.
Jeff Stevens, secretary of the railway described the people behind the attack as "mindless thugs" and urged people to still come along and enjoy the attraction.
Warwickshire Police are viewing footage of the incident captured by wildlife cameras to try and identify those responsible for the attack which took place during the evening of 6 April.