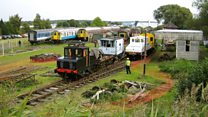 Video
Coventry museum set to open for final time in October
A museum housing a collection of electric trains could close later this year.
The site of the Electric Railway Museum, next to Coventry Airport, is set to become part of Jaguar Land Rover's Whitley expansion scheme.
Landowner Coventry City Council has not renewed the museum's lease and trustees of the attraction say despite efforts an alternative location for the attraction has not been found.
The closure announcement is "not a done deal", the trustees added, but unless an urgent solution is found the museum will open to the public for the final time on Sunday, 8 October.
They said it's "devastating" to think that the West Midlands could potentially lose this "unique cultural asset".