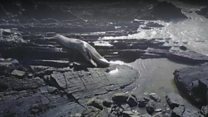 Video
Drone footage shows huge whale carcass washed up at Hartland Quay, Devon
A huge whale carcass washed up on a beach in Devon will be washed away by the tides, it is hoped.
The fin whale, which is more than 10m (32ft) long, was spotted near Hartland Quay at about 16:00 GMT on Wednesday.
Drone footage taken on Thursday shows the whale covers a large area of rock and beach.
Richard Haste from Torridge Council said officers would "monitor the situation to see if the carcass is taken out to sea by the tides where it is expected to decompose naturally".
The council has advised people to keep away from the whale, saying it could pose a health risk to people and dogs.