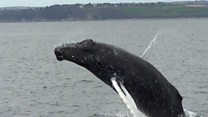 Video
Doris the whale gets some air time off Falmouth
Amazing pictures have emerged of a humpback whale breaching off Falmouth.
The whale, spotted on Tuesday, is thought to be the same whale - dubbed Doris - that has attracted onlookers to Start Bay in Devon.
Doris made headlines not only for her dramatic appearances but also for getting snagged twice in fishing nets.
Captain Keith Leeves, who spotted the whale with passengers on Falmouth-based AK Wildlife Cruises, said: "It's definitely Doris, you can see the burn marks from ropes that she got stuck in.
"She put on an amazing show and we kept our distance," said Capt Leeves, but there was no further sign of Doris on Wednesday.
He said the last humpback whale he spotted off Falmouth was in April 2016.
Go to next video: Whale watchers flock to Devon