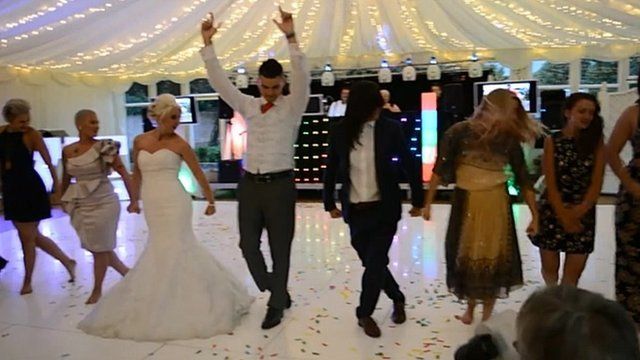 Video
Essex wedding dance video goes viral
A couple wowed their wedding guests with a first dance with a difference.
Instead of the traditional slow-dance, James Parris, 26, from Braintree, Essex, and his wife Beverley, 29, from Saffron Walden, performed a four-minute club-mix.
The couple were joined by members of Hip Hop Pop, a dance troupe Mrs Parris belongs to.
"James was a bit nervous, but he said he'd give it a go for me, and he secretly enjoyed it," she said.
"Unfortunately, he had to go to one rehearsal with his arm in a sling.
"We'd been on a joint stag and hen do, and I fell off a bucking bronco and landed on top of him. He wasn't too happy about that," she said.
The dance was choreographed by Jenny Bater-Sinclair, of the troupe, who later posted it on social media.
A week after the wedding, Mrs Parris said more than 200,000 people had watched the video on Facebook and YouTube.
Go to next video: Wedding party 'takes the plunge'