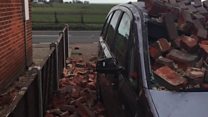 Video
Insurance wrangle over wall collapse during Storm Doris
A man whose car was crushed when part of his neighbour's wall collapsed says he was told he would not get an insurance payout because it was "an act of God".
As first reported in the Gazette, Steve Gallacher's vehicle was badly damaged in the collapse, in Little Oakley, near Harwich, during high winds caused by Storm Doris last month.
Mr Gallacher says he was contacted by his insurance company a "few hours" after he had reported what happened and was told the damage was an "act of God".
"I want someone to be responsible for it and I don't want it to be God, because I don't believe in God," he said, in an interview with the BBC.
But Mr Gallacher's insurance company Covea denies refusing to pay out.
A spokeswoman said: "Mr Gallacher has a valid insurance claim which Covea Insurance has agreed to pay.
"The only issue ever in question was whether his neighbour had neglected the maintenance of their property which led to the wall's collapse. This is important because it determines whether an insurance company can recover its losses from the negligent party in English law.
"In this situation, the property insurer is satisfied that Storm Doris caused the wall to collapse and there was no negligence."
The BBC has also contacted Saga, which insures Mr Gallacher's neighbour, but it has yet to respond.