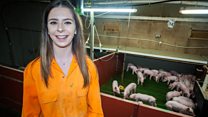 Video
Piglets 'prefer blackcurrant to water', student says
Piglets prefer blackcurrant squash to water, a student has found.
The study by Alex Evans formed part of her animal management degree course at Writtle University College in Essex.
Studying two separate sets of weaner piglets at one of the college's farm sites near Chelmsford, Miss Evans, 22, said: "I found that piglets have an innate preference for sweet flavours.
"They preferred the blackcurrant squash to the water they would normally be given during weaning."
Research has found piglets have about 15,000 tastebuds compared with the 10,000 tastebuds that humans have.
Dr Nicola Blackie, who supervised Miss Evans's studies, said: "It is really important because piglets who drink more, eat more, which means they will do much better through weaning and that is really valuable for farmers.
"They were far more interested in the blackcurrant than the water. We have also tried caramel and sweetener, and blackcurrant is the most successful so far."
Orange cordial, she said, might be experimented with next.