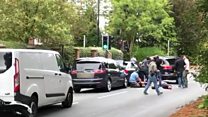 Video
Southampton police hold four men on ground at gunpoint
An eyewitness has filmed a number of armed police officers holding four men on the ground in Southampton.
About 12 officers with guns, mostly in plain clothes, were seen to stop a vehicle in Archers Road at about 11:30 BST.
Hampshire Constabulary later confirmed it was a pre-planned operation in connection with an ongoing investigation into drugs supply.
Four men were all arrested on suspicion of conspiracy to supply drugs and possession of a firearm and are being questioned in custody.
A fifth man was later arrested on suspicion of the same offences following a raid at a house in Newcombe Road in the city.