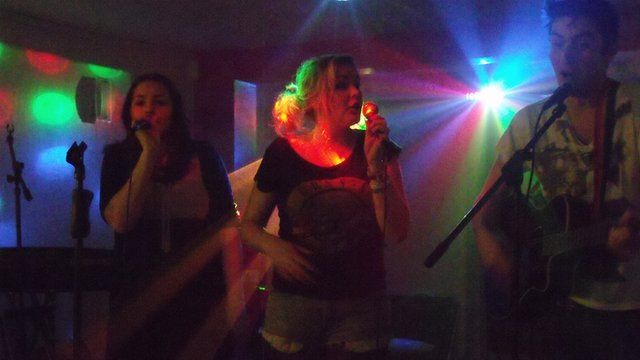 Video
Tap Jam at the Brewery Tap in Worcester - 13.02.12
After the metal night had finished at The Firefly, I thought I'd just catch last orders at the open mic night at The Brewery Tap next door - and I'm glad I did!
Closing off proceedings were a new outfit who'd impressed me the previous week as a duo - and I was particularly taken with them launching themselves with a tour of the local open mic nights. Tonight it was the full Done By Sunrise - who are a two sisters and brother Worcester trio of Jody, Loren and Scott. They were cracking last week as a duo - but the extra vocals of Jody - plus the added depth that just a looping effects box can add - really make this bunch one of sparkliest acts I've seen for a long time.
They've only got a couple of originals under their belt at the moment but I reckon that'll soon improve - and the full outfit meant that they were able to close the set off with their own trademark medley - 40 different songs in four minutes - and you know how much I love that sort of thing!
Andy O'Hare