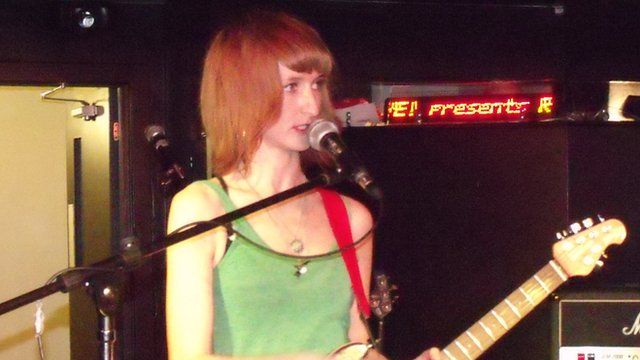 Video
Tap Live at the Brewery Tap, Worcester - 19.04.12
Just about the best weekly selection of the most happening local outfits has to be found at the Thursday night live promotion at the Brewery Tap in Worcester's Lowesmoor - and hardly surprising that just about everyone great and good on our wonderful scene turned up to check it out.
This was quite the finest set I've heard in a while from fried psychopop Craigus Barry AKA The Retinal Circus. He's got great raw classics like Dali and Shapes (we've mentioned the dodecahedron before) but Schipol Paranoia - a Meteor Street original - is still one of my all-time favourites.
A complete pleasure for the solo set to follow from ex-Blue Coma and current Art-Star girl Ria Parfitt - who's very pleasingly relocated back to Hereford from her sabbatical in Bristol - welcome home! This was a stunning set of really tasteful covers like Bang Bang mixed with originals like Girl, Interrupted and there's no doubting that Ria has superstar quality in bucketloads.
Rusty Knives are just about the newest, punkiest and grungiest outfit to take to the local stages - and I'd describe them at the moment as pretty much 'raw and untamed'. I reckon that this trio do most of their rehearsing at the moment at live gigs - but they stick pretty well together and aren't afraid to experiment even on stage. They're an outfit that I'd like to see again in, say, six months who'll have progressed in leaps and bounds.
Well there's no avoiding it - the band I'd really come to see were the headliners Sick Boys Club from Redditch and Birmingham. This amazing set of total quality musicians are an old-school bunch of ska-reggae-dub-punksters with the most amazing variety of wind instruments I've ever seen on stage - including alto and bass clarinets, cornets, trumpets, the whole range of saxes and a bass tuba. The triply-delivered vocals are completely stunning with ditties like Life Is Like A Cornetto and Cherry Pie and they vary their themes between gypsy-jazz, East European and lounge-lizard - but what's for sure is that they're one of the classiest acts I've seen for a long time - so I, for one, am prepared to forgive them the odd faux-pas.
Andy O'Hare