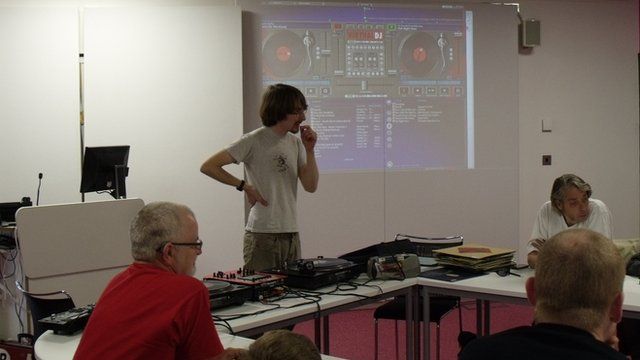 Video
Worcester Music Festival Showcase at Worcester's Hive
I'm a big fan of Worcester Music Festival - which has only been going for four years now, but has been highly rated amongst the best of the national free and metropolitan festivals going. It attracted more than 12,000 visitors last year and I reckon that this year looks sure to better that - as it's been moved back to its August Bank Holiday spot - with an extra day added for good measure.
The first major promotion for this year's event took place at the incredible and controversial 'Golden Temple of Worcester' that is The Hive, close to the riverfront. It's the first time I've been into this amazing building - which opens officially in July as the library of Worcester University and the home of the county archives and I have to say it is absolutely stunning.
The Worcester Music Festival team had lined up a great selection of acts of all genres during the day to showcase this year's event, but I was especially taken with a long-overdue performance of solo-looping breathless math-rock from Sam Knight AKA Theo. I do wish he'd take a break every ten minutes or so to let the audience show their appreciation for his amazing efforts!
Much kudos to Hitchhiker, Hennesea and The Bitter Roots for braving the bitter wind on the day as they they welcomed visitors on the outside performance area - I really felt for all these guys but they did a fantastic job.
It's about once in a lifetime that you'll get the opportunity to play extremely loud and raucous rock music in a library and of course Chris and Katy of Das Sexy Clap took full advantage of this never-to-be-repeated offer, with a very tasteful selection of numbers like Push It In Break It Off and Put It Out Yeah from their tastelessly unmentionable new album - hmmmm I like that!
There were lots of fringe events at this bash like workshops from the incredible Ed Steelfox and the Worcester School of Rock and Performance which really added to the atmosphere of the day. The evening rounded off with a sublime mix of gypsy jazz, Klezmer and East European rock-folk mayhem from Johnny Kowalski & The Sexy Weirdos - who I've been waiting ages to see - and didn't disappoint in the slightest.
But I've got to say that the highlight for me on the day was the Demo Derby workshop forum featuring Scott Garrett of MAS Records, Muff Murfin and Russ and Danny of Cantaloop. This pretty much un-trumpeted sideshow was a chance for newby musicians to get their compositions commented and suggested on by some industry individuals who don't half know what they're talking about.
Andy O'Hare