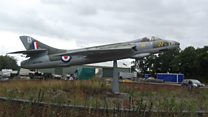 Video
For sale: Hawker Hunter Jet, needs some work and engine
A Hawker Hunter jet fighter with a difference is going under the hammer at an auction house in Herefordshire.
The aircraft, which entered service with the Royal Danish Airforce in 1956 as E-408 with ESK-724 squadron, does not have an engine and is stuck on a pole.
After being removed from active service, the Hunter was put on display as a pole-sitter outside various RAF bases before entering private hands in 2006.
There's a dummy pilot in the cockpit, which has been cleared of instruments, and it has removable wings for ease of transport.
It will be auctioned by Brightwells in Leominster on Wednesday with a top reserve price of £22,000.