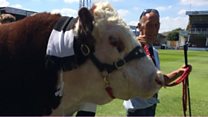 Video
PETA's concerns over Hereford FC's Ronaldo the bull at Wembley
An animal rights group is calling for a "cruel" plan to parade a bull at Wembley ahead of the FA Vase final to be stopped.
The FA granted permission for Hereford FC's mascot, Ronaldo the bull, to walk around the stadium before Sunday's game against Morpeth Town.
But PETA has written to the FA to ask if it will "stop Ronaldo from having to endure the stress and misery of being paraded in front of thousands of screaming fans."
The FA said if it had any concerns over fans' safety or Ronaldo's welfare they would not have agreed to the parade.
Hereford FC said Ronaldo was regularly paraded in front of thousands-strong crowds and the three-hour journey would be "nothing unusual to him."
Stockman Tom Manns said: "People dream about going to Wembley...and we are going with a bull."
Go to next video: Hereford FC celebrating Wembley trip