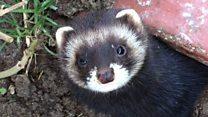 Video
Polecats are on the comeback trail after flirting with extinction
Polecats are on the comeback trail after flirting with extinction 100 years ago, and the West Midlands is proving a stronghold.
However, conservationists believe many people would not recognise the creatures, which are members of the weasel family.
Lizzie Croose, from the Vincent Wildlife Trust, said most people have only ever seen the animals dead by the side of the road.
The charity, based in Ledbury, published a national survey on the state of polecats in April
Naturalist and BBC Springwatch presenter Chris Packham said: "Fingers crossed over the next 25 years we should see polecats continue to spread and consolidate their population."