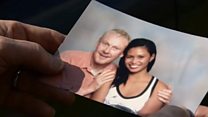 Video
Man fears wife could be destitute if forced to leave UK
A man from Hereford claims his wife will be left homeless if she's deported to the Philippines.
Marinel Bristow, 33, moved to the UK four years ago after a typhoon killed 50 of her relatives.
But this month she was detained at Yarl's Wood Immigration Removal Centre, in Bedford, as she's not been able to prove that her husband's earnings as a photographer meet the threshold of £18,600 to stay here.
Her husband Rob Bristow said: "If she's sent back now she will basically be homeless."
In a statement, the Home Office said: "All applications are considered on their individual merits and in line with immigration rules."
Go to next video: The deaf Iraqi boy who fled IS