Media player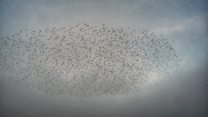 Media playback is unsupported on your device
Video
Starling murmurations draw photographers to Redditch
Even on a misty and damp afternoon, a starling murmuration is an extraordinary sight.
Seen at dusk, the sky darkens as thousands of birds flock to form complex shapes overhead.
One of the most popular locations has become Redditch in Worcestershire, where starlings circle high above a multi-storey car park at the Kingfisher shopping centre.
Groups of photographers have visited Redditch to capture the starlings in flight.
Popular theories for murmurations suggest they are a way to confuse and avoid predators, a way to keep warm or just a massive signpost in the sky for a safe place to roost.