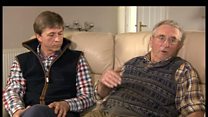 Video
Farmer made 'instant' decision to shoot burglar
A famer who shot a convicted burglar on his land made an "instant" decision to shoot his shotgun.
Kenneth Hugill, 83, from Wilberfoss, near York, shot Richard Stables in 2015 but was cleared of inflicting grievious bodily harm.
Mr Hugill told the BBC he was "protecting myself instantly, there was no choice about it, when that car revved up and came at me".
"I couldn't see because it was black dark. I never saw any persons, I never even saw the car.
"It just came instantly and my decision was instant."
Mr Hugill said for the first time in his life he had been "petrified" and that was why the shots had been fired.
He and his son, David, were talking to the BBC's Peter Levy.