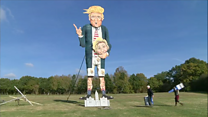 Video
Donald Trump effigy to be burned at Edenbridge bonfire
A giant effigy of Donald Trump will be burned at Edenbridge's annual bonfire celebrations this weekend.
The 36ft (11m) steel-framed model of the Republican US presidential candidate will be set alight days before the American election.
The figure - holding the head of his Democrat rival Hillary Clinton - will be stuffed with newspaper, packed with fireworks and torched on Saturday.
The Edenbridge Bonfire Society raises money for local charities and in previous years celebrity figures have included Sepp Blatter, the former Fifa president, Apprentice contestant Katie Hopkins, disgraced cyclist Lance Armstrong and footballer Wayne Rooney.