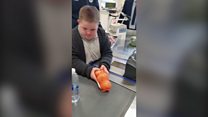 Video
Store praised for helping boy with genetic disorder
Supermarket staff have won praise from the father of a 10-year-old boy after allowing his son to scan their shopping in store.
David Burke said Jay, who has Down's syndrome, was "over the moon" when staff at a Tesco on Great Horton Road in Bradford opened a checkout especially for him.
He said: "Everyone there always makes a huge effort to making shopping that bit easier for us.
"If you have a child with a learning challenge or challenging behaviour then you know just how traumatic it can sometimes be when out in a place like a busy supermarket."
Go to next video: 'Heights are scary' - scaffolder with Downs