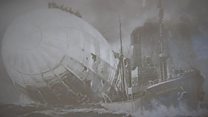 Video
Zeppelin crash victims' relatives make peace
The great-grandson of a Grimsby trawler captain who left 16 Germans to die on a crashed Zeppelin has met a relative of one of those who perished.
Pat Thompson wanted to meet Emile Specht, whose uncle Heinrich drowned in the North Sea in 1916.
Mr Thompson's grandfather William Martin found the airship while fishing off the coast of Grimsby, with the Germans still alive and clinging to the wreckage.
He ordered his trawler to turn away rather than save the men, who all died.
You can see the full story on BBC Inside Out Yorkshire and Lincolnshire at 19:30 GMT on BBC One on Monday 5 November or via iPlayer afterwards.