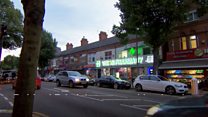 Video
Brexit Britain: The street with a dozen words for hello
Leicester's Narborough Road is one of the most cosmopolitan in Britain, according to the London School of Economics.
Researchers surveyed 108 of the street's shops, and found 22 were owned by people born overseas. It also discovered that almost 80% of entrepreneurs spoke more than one language.
The BBC put the research to the test by speaking to workers and found at least a dozen different languages.
Because of its thriving multiculturalism, most businesses on Narborough Road said they do not think Brexit will have any impact on their way of life or the local economy.
Watch a Brexit special on Inside Out at 19:30 BST on BBC One in the East Midlands or iPlayer.