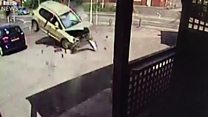 Video
Car crashes near busy beer garden in Leicester
A pub landlord has said a car that careered into his car park narrowly missed families in the beer garden.
Benjamin Goodman, 39, owner of the Nags Head, in Glenfield, Leicester said he was serving customers on Sunday afternoon when he heard a "massive crash" outside.
He said a man carrying a bag fled the scene and jumped over a fence into a neighbouring garden.
"Moments earlier the car-park was full of kids, the beer garden had lots of families and children in it," Mr Goodman said.
"Had it not been for those two bollards this could have been much worse."
A 21-year-old man has been charged with dangerous driving, driving a vehicle without a licence and driving without insurance.
He is due to appear before Leicester Magistrates' Court on Thursday.