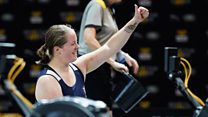 Video
Invictus Games success for one-armed swimmer and rower
A former RAF medic Rachel Williamson, who lost the use of her right arm, has returned from the Invictus Games in Sydney with a clutch of medals.
The 29-year-old, from Rutland, said the experience has changed her life.
While playing for a RAF team, Rachel received a rugby injury, which developed into a functional neurological disorder, and she ultimately lost the ability to use her arm completely.
At this year's Invictus Games, Rachel, who trains in Stamford, Lincolnshire, competed in indoor rowing and swimming events, winning two gold medals, three silvers and one bronze.
Go to next video: 'To represent your country is just good fun' - England enjoy Amputee World Cup