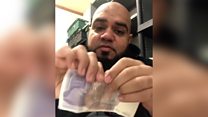 Video
Leicester charity founder rips fake £20 notes after 'prank'
The founder of a homeless charity filmed himself ripping up fake £20 notes he believes were left in a tin as a prank.
Arif Voraji was initially delighted to find two £20 notes in a donation box for the Help the Homeless charity.
But after realising they were pink on the edges and made of thin paper, he filmed himself tearing the notes up and uploaded the footage to Facebook.
The 39-year-old said if the cash was real, it could have bought a sleeping bag for a homeless person or gloves for 40.
He said since he posted the video, the charity has made £160 through donations of genuine £20 notes.
Go to next video: Harry Kane fiver: 'It was in my hand'