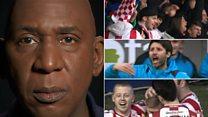 Video
Colin McFarlane recites Alfred Lord Tennyson in bid to inspire Imps
Actor Colin McFarlane recites a passage from Ulysses by Alfred Lord Tennyson in a bid to inspire Lincoln City ahead of the team's FA Cup clash with Arsenal on Saturday.
The poem features the lines: "One equal temper of heroic hearts. Made weak by time and fate, but strong in will. To strive, to seek, to find, and not to yield."
By reaching the quarter-finals, Lincoln became the first non-leaguers to go into the last eight since QPR in 1914 - a year before Woolwich Arsenal filed the paperwork to change their name to plain Arsenal.
To date, The Imps have achieved unlikely FA Cup victories over Championship clubs Ipswich Town and Brighton, as well as top-flight Burnley.
McFarlane is known for his role as Commissioner Loeb in Batman Begins and The Dark Knight, and more recently as a guest star in the BBC's Caribbean crime drama Death in Paradise.