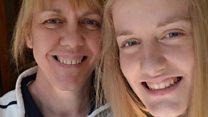 Video
Spalding shooting brothers: We were frightened every day
From the outside, Luke and Ryan Hart say their family looked just like any other. Their unit looked close-knit and they lived in "a nice looking house" in Leicestershire with their parents and sister Charlotte.
But the reality was different.
In 2016 in a swimming pool car park, their father - Lance Hart - shot dead both their mother Claire and Charlotte before turning the gun on himself.
A review into the killings has detailed how Mrs Hart and her three children had been suffering from coercive control abuse by her husband for many years without them realising.
The brothers have said there were "potential opportunities" for GPs and other agencies "to step in".
Go to next video: 'The media called my murdering father a caring man'