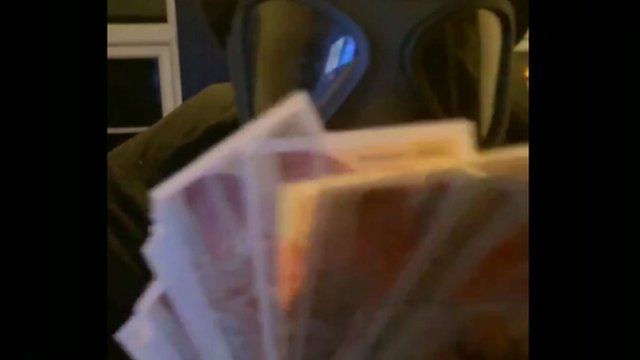 Video
Killed poker player Mehmet Hassan's cash 'thrown around'
A jury has been shown film footage of a group of people on trial for the murder and robbery of a professional poker player £50 notes around and stuffing cash in their underpants as the man lay dead nearby.
Mehmet Hassan, 56, was killed in his north London flat in March last year.
Leonie Granger, 25, of Gillingham, Kent, her boyfriend Kyrron Jackson, of Romborough Way, Lewisham, and his friend Nicholas Chandler, of Lee High Road, south-east London, both 28, are on trial at the Old Bailey accused of murder and false imprisonment, which they deny.
The jury was shown footage of the trio which was filmed on Ms Granger's mobile phone.
Mr Jackson and Mr Chandler are also accused of robbing Mr Hassan, two counts of plotting to rob employees of Grosvenor Casinos, two counts of conspiracy to have a shotgun and imitation firearm, and two counts of conspiracy to falsely imprison - all of which they deny.
The trial continues.