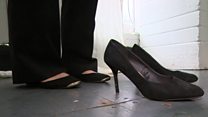 Video
London receptionist 'sent home for not wearing heels'
A temp worker was told she had to wear shoes with a "2in to 4in heel" or leave her job.
Receptionist Nicola Thorp, 27, from Hackney, was sent home from work after refusing to wear high heels.
Outsourcing firm Portico said it set the uniform rules for staff supplied to finance company PwC, but would now review its guidelines.
Ms Thorp said she would have struggled to work a full day in high heels and had asked to wear the smart flat shoes she had worn to the office in Embankment - but was told to go and buy a pair of heels.
A Portico spokesperson: "We have taken on board the comments regarding footwear and will be reviewing our guidelines in consultation with our clients and team members."