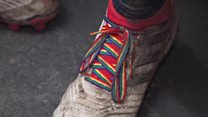 Video
London's first gay rugby team
This weekend the England and Australia rugby teams wore rainbow laces on their boots in solidarity with LGBTQ+ sportsmen and women.
There are many gay and inclusive rugby clubs across the world but the first was started in London in 1995.
The Kings Cross Steelers have players of all abilities, ages and backgrounds and for many of the players it's more than just a team, it's giving them a chance to talk about their lives.
The Welsh and French rugby teams also agreed to wear rainbow laces in support of former Wales captain Gareth Thomas, who was the victim of a homophobic attack last weekend in Cardiff.
Video Journalist: Paul Murphy-Kasp