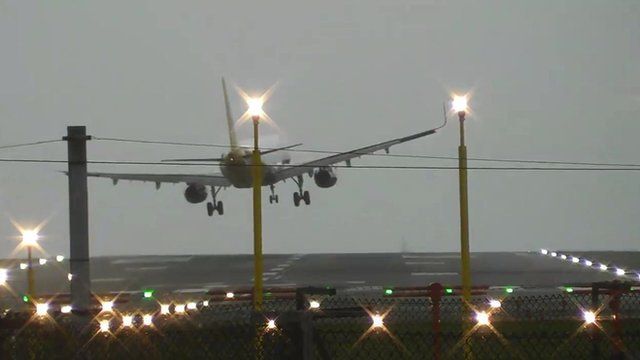 Video
Manchester Airport-bound plane aborts landing due to 70mph winds
A plane aborted its landing at Manchester Airport after winds of up to 70mph swept across the North West.
Simon Whittaker, originally from Cheadle, posted his footage on Facebook saying: "Monarch A320 drifts off the centre line in cross winds at manchester airport and goes around."
Mr Whittaker, who used to fly planes himself, was on his way for a coffee at the Airport Hotel Pub when he noticed how the wind was affecting the incoming flights and began filming.
He said the weather was "absolutely treacherous" but that the pilot seemed "in control of the plane throughout the aborted landing". He said the winds were so strong that it was a challenge even keeping the camera steady.
Five planes were diverted from the airport on Sunday as a result of the high winds.
A spokeswoman said three planes were diverted to East Midlands Airport including two Monarch flights and another two went to Birmingham Airport.
The severe weather caused a roof on shops to be blown off in Greater Manchester, thousands of homes were left without power and trees were brought down.
Go to next video: Planes wobble as they land in storm