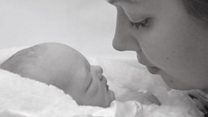 Video
'Cuddle cot helped me cope with my baby's death'
A young woman whose newborn baby died shortly after he was born has said having access to a "cuddle cot" helped her come to terms with his loss.
Beckie Wilson was able to spend three days with her son Carter.
The cuddle cot is a cooling blanket that keeps the baby at an appropriate temperature so families can spend more time with them.
Beckie is now raising money to buy more cooling blankets for hospitals.
She told BBC Radio 5 live that she was able to learn things about her son that she would have been unable to do without the technique.
"The colour of his hair, his eyes, how long he was, how much he weighed...I got to know all of that".