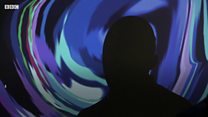 Video
Is this the Banksy of the cryptocurrency world?
Aktiv Protesk is one of a new wave of artists who uses cryptocurrencies, such as Bitcoin, to sell his digital work.
Preferring to remain anonymous, the Manchester-based designer says it's "just another form of currency".
"I can change it for US dollars or I can keep it and see if the value increases over time.
"That's why I don't charge huge amounts of money - for me, it's more about sharing my art to a wider audience."
You can see more on this story on Inside Out North West on Monday 5 November at 19:30 GMT on BBC One in the North West. It will then be available on the BBC iPlayer for 30 days.
Go to next video: Arts festival 'brightens up' community