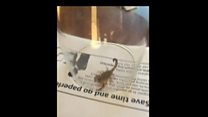 Video
Liverpool tourist's scorpion souvenir surprise
A tourist discovered an unexpected souvenir after unpacking from a trip to Bali when she found a scorpion.
Natasha Collins, 25, from Liverpool, said she thought it was a leaf that had fallen out of a carved piece of wood and glass bowl she bought.
"I didn't realise it was a scorpion straight away until I noticed the tail," said Ms Collins.
RSPCA inspectors are due to collect the scorpion and have yet to determine if it is venomous, said a spokeswoman.
The creature is around 2in (5cm) long.
"My initial reaction was to put a glass over it. I thought it could be dead as it didn't move straight away," said Ms Collins.
She had been on a week-long holiday with her partner Chris in the Indonesian province and bought a table centrepiece in the town of Ubud.
She had unwrapped the souvenir when something dropped out of the bag.