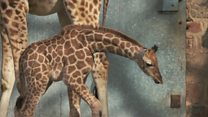 Video
Rare baby giraffe takes first steps outside at Chester Zoo
A rare one-week-old Rothschild's giraffe calf has made his first outdoor appearance at Chester Zoo.
The 6ft youngster, Narus, took his first tentative steps outside under the watchful eye of his mum, Orla, and the rest of the giraffe herd.
Tim Rowlands, curator of mammals at Chester Zoo, said: "Giraffe calves get to their feet within minutes of birth, but those long legs can still take a bit of getting used to. He has settled in really well and after his little adventure outside he seems to have come on leaps and bounds."
He added that the species is "experiencing a silent extinction in the wild".