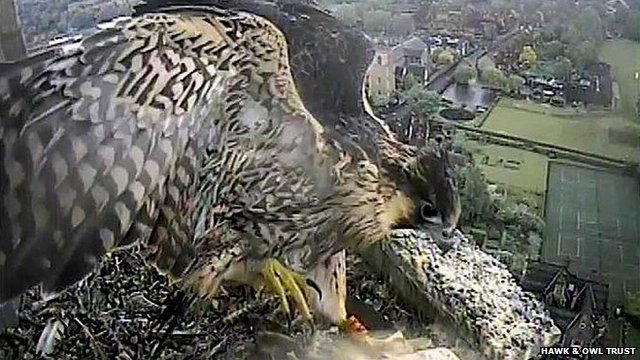 Video
Second Norwich Cathedral peregrine falcon chick makes flight
The second peregrine falcon chick in a brood of four has made its first flight from Norwich Cathedral spire.
The chick, thought to be a male and ringed with the code YV, left the nest at 08:06 BST and made a controlled descent to one of the cathedral tower's pinnacles.
David Gittens, from the Hawk and Owl Trust, said the fledge appeared to have been "partially wind-assisted".
He added: "The chick was certainly ready to fledge. He flew away strongly rather than it being more of a controlled descent which is so often the case."
The first chick from the 2014 brood fledged just after dawn on Friday and has been seen flying in short hops around the cathedral.
"Like the chick which hatched yesterday it will now be looked after by the parents and develop its flying skills," said Mr Gittens.
Go to next video: Hungry chick fledges spire nest