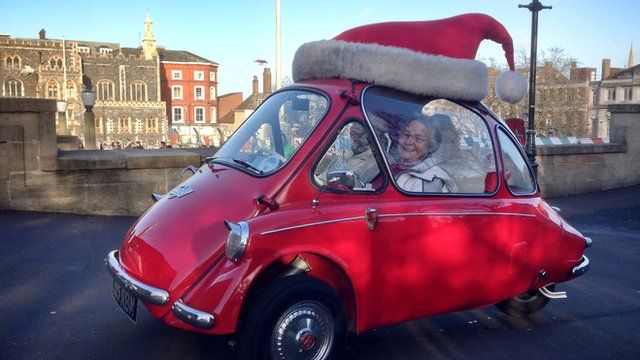 Video
Norwich Santa bubble car drives shoppers' Christmas cheer
A retired telephone engineer says he has given some festive cheer to shoppers in Norfolk after adding a giant Santa hat to his bright red bubble car.
Rod Emmerson, 71, from Thorpe St Andrew, in Norwich, spent about 12 months restoring the Heinkel Trojan 200, which he bought for £5,000.
Mr Emmerson and his wife Gilda travel about 3,000 miles a year in the car, which does 80 miles (129 km) to the gallon.
"Just the fact you can drive into a street of not very happy shoppers and everybody smiles - it's like throwing a switch," said Mrs Emmerson.
"It's so powerful. To be able to make people smile nowadays is quite something... we get stopped for photos, it's nice to see people like it just as much as we do."
Go to next video: Bubble car business takes off