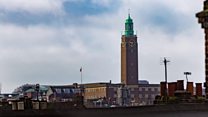 Video
Norwich City Hall scaffolding time-lapse footage
A £200,000 project is under way to repair major parts of the clock tower which dominates the skyline of Norwich.
The City Hall tower was built during the 1930s in art deco style, but now five copper finials at clock level need to be removed, cleaned, tested and repaired.
Giant scaffolding has been erected and this time lapse video shot by Ben Gadsby-Williams from a mile away at his home on Cowgate shows it going up.
The city council said: "The greatest cost in the project is the erection of scaffolding which will also enable repairs to the pointing on the clock tower where necessary as part of the project."
It is likely to take up to four months to complete and the it is hoped it will not have to be done again for another 60 years.