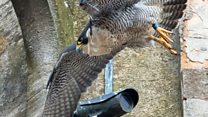 Video
Norwich Cathedral peregrine falcon chick in fatal accident
A peregrine falcon has been flung to its death after its mother was spooked at her nest 75m (246ft) above the ground.
The chick, no more than two days old, hatched on the nesting platform at Norwich Cathedral run by the Hawk and Owl Trust.
Something caused the adult female, a first time mother, to be startled from the nest. She appears to have caught her offspring in her talons in the process, throwing the chick from the nest.
Experts from the Hawk and Owl Trust said it was a "tragic accident and her talons just got caught, she's just not experienced enough as a mother to have checked".
It was one of three in this year's brood, but only one remains as another died.
The trust added: "The remaining chick appears to be strong."
Go to next video: Exotic pet therapy?