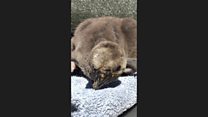 Video
There are fewer than 32,000 Humboltd penguins in the wild
The first penguin chick to hatch in more than a decade at a Norfolk Sea Life Sanctuary is "doing well", experts said.
The three-week-old baby Humboltd penguin, named Fluffy McFluffyface by the sanctuary staff in Hunstanton, is as yet too young to determine its gender.
There are only 32,000 Humboltd penguins left in the wild, with the species classified as "vulnerable" on the International Union for Conservation Nature red list of threatened species.
This video has been optimised for mobile viewing on the BBC News app. The BBC News app is available from the Apple App Store for iPhone and Google Play Store for Android.