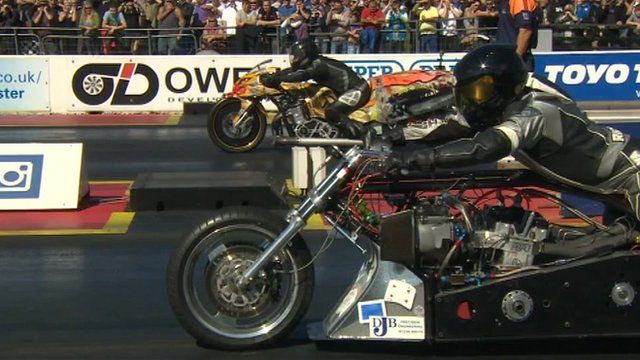 Video
Santa Pod drag racing: Bikers' high-speed escape
A motorcycle drag racer had an "astounding" high-speed escape at the Santa Pod Raceway when he leaped from his own bike to his competitor's at 150mph.
Greek racer Filippos Papafilippou's machine crossed the dragstrip's centre line and collided with British Top Fuel Bike opponent Steve Woollatt, from Hertfordshire, in the adjacent lane, said a spokeswoman from race track.
Catapulted off his bike, Mr Papafilippou landed on the metal "wheelie bars" which extend behind Woollatt's machine and got his foot caught.
Emergency crews had to to cut Mr Papafilippou's trapped foot free from under the wheelie bar. He suffered only a skin abrasion to the foot where contact with the track burnt through his leather racing boot.
More than 324,795 people have watched the collision on YouTube which happened at the track on the Northamptonshire/Bedfordshire border during Sunday's race.