Media player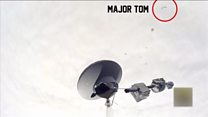 Media playback is unsupported on your device
Video
Missing Action Man-in-space footage found
Footage has emerged of an Action Man astronaut doll that was launched into near space before it disappeared.
The original 1966 doll took flight in Leicestershire on 26 June, to celebrate 50 years of Action Man.
He travelled 19 miles (30km) before descending. A tracker device was found in a Northamptonshire field, but the doll and capsule were missing.
The onboard camera has now been found and shows the "capsule" falling apart, ejecting the doll, which remains lost - either in space, or elsewhere in the area where it fell back to earth.