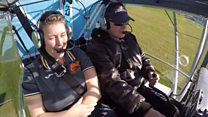 Video
Georgia Williams's mum takes to the skies
The mother of a murdered Shropshire teenager has taken an emotional first flight in an aeroplane her daughter helped to build at school.
Georgia Williams's mother Lynnette took to the skies over Halfpenny Green Airport near Wolverhampton in the aircraft which will now be used for the benefit of other young people.
Georgia, from Wellington, was 17 when she was murdered in the town in 2013.
She did not live to see the aeroplane completed, but had always wanted to take the first flight in it.
It was built by students at Ercall Wood Technology College, and is now owned by the Georgia Williams Trust - a charity set up in Georgia's memory.