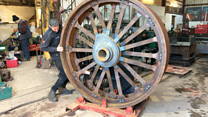 Video
Old steam engine Talisman recreated from scratch
A type of steam engine in use about 100 years ago including carrying parts for the Titanic is being recreated from scratch.
The huge Talisman machines once carried loads in excess of 100 tonnes, although just five were made - and only one remains.
That is set to change thanks to efforts to build a Talisman from the ground up in Cumbria.
Behind the build is Alex Sharphouse, from Bouth near Ulverston, who owns John Fowler & Co (Leeds) Ltd - one of the leading manufacturers of steam engines throughout the 1800s and 1900s.
The project is sponsored by Shrewsbury-based Morris Lubricants which celebrates its 150th anniversary in 2019 - the year Mr Sharphouse hopes to take the engine on tour, following a planned August unveiling at Shrewsbury Steam Rally.
Video journalist: John Bray
Go to next video: Inventor puts steam engine on a trike