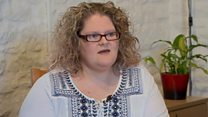 Video
World's first 'test tube baby' Louise Brown welcomes IVF research
Louise Brown, the world's first "test tube baby", has said she welcomes any research that may help childless couples.
Research on human embryos can only happen under a licence in the UK and it is currently illegal to keep them alive in laboratories for more than 14 days after fertilisation.
There are calls for a government inquiry into allowing embryos to be experimented on for longer, and a new BBC commissioned poll shows 48% of people support increasing the limit up to 28 days.
Ms Brown, from Bristol, was born in 1978 after her parents became the first in the world to successfully undergo IVF treatment.
"Anything that can help create a family is brilliant," she said.
A two-part documentary "Revisiting the 14 day rule" can be heard on BBC Radio 4 on Tuesday 17 January at 11:00 GMT.
Go to next video: 'Life as the first test tube baby'