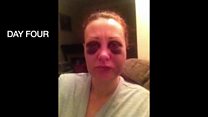 Video
Somerset domestic abuse survivor's selfie diary
A woman who was attacked by a former partner has released graphic photos of her injuries that she captured in a selfie diary.
Caroline Way from Axbridge, Somerset, was strangled and punched in the face at her home three years ago.
At the time, she took a picture of herself each day to show how long it took for her injuries to heal.
Her actions have been applauded by domestic abuse organisations.
Mel Thompson, from the the Somerset Integrated Domestic Abuse Service, said: "It's not something that we see regularly but a lot of people need to find a way to find their own personal recovery so I would really applaud what Caroline's done, we all would in the team.
"Because what she's done is raising the awareness for those people who can't realise that they're in similar situations and could end up with something happening to them like Caroline did unfortunately."
She added that people should take notice of their gut feelings and intuitions.
"Coercion and control are the key aspects of domestic abuse, wanting to take control of another person's decisions and another person's life, influencing them," she added.