Media player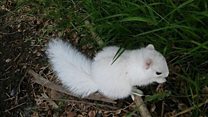 Media playback is unsupported on your device
Video
Rare white squirrel 'nonchalant' about being spotted
This is the moment a rare white squirrel scampered over to workers at a timber yard near Bath.
The creature, not thought to be an albino as it has black eyes rather than pink, is a genetic colour variant of the grey species, without pigment in its fur.
Spotter Cliff Toghill said: "It was very tame. It didn't seem at all bothered about being so close to us."
Eastern grey squirrels in the US have a gene that makes their coats white. Squirrels with albinism have red eyes, white morphs do not. Only one in 100,000 squirrels are estimated as being born albino.