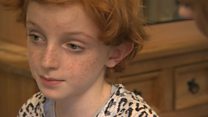 Video
South Yorkshire transgender child on her transition
The family of a transgender child, who was born a boy but now lives as a girl, have spoken about her transition.
Nicholas, from near Sheffield, often dressed as a girl at home, but in 2015 aged eight she started going to school as Amber.
Her mother said, despite difficulties, she realised she could have a "miserable son or a happy daughter".
The BBC's Inside Out programme followed Amber for several months up to her ninth birthday.
Her story comes as figures suggest a significant rise in under-18s being referred to the Gender Identity Development Service (GIDS).
In 2009/10 there were 97 referrals but in 2015/16 that figure rose to 1,419.
GIDS is a specialised clinic, funded by the NHS, for young people experiencing difficulties with their gender.
It has two centres, one in Tavistock, London, and another in Leeds.
You can see Amber's story on BBC Inside Out Yorkshire and Lincolnshire at 19:30 GMT on BBC One on Monday 30 January or via iPlayer afterwards.