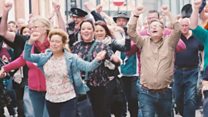 Video
BBC Radio Sheffield: Station channels Pulp for 50th birthday
Hundreds of BBC Radio Sheffield listeners have helped to remake a South Yorkshire anthem to mark the station's 50th birthday.
On 15 November 1967 the station made its first broadcast to listeners across South Yorkshire and North Derbyshire.
It was the second BBC local radio station to launch following BBC Radio Leicester a week earlier.
A community choir, made up of singers from across the region, has recorded a specially arranged version of the song Common People by Sheffield icons Pulp to celebrate the milestone.
BBC Radio Sheffield presenters were then joined by about 300 members of the public to film their own take on its music video.