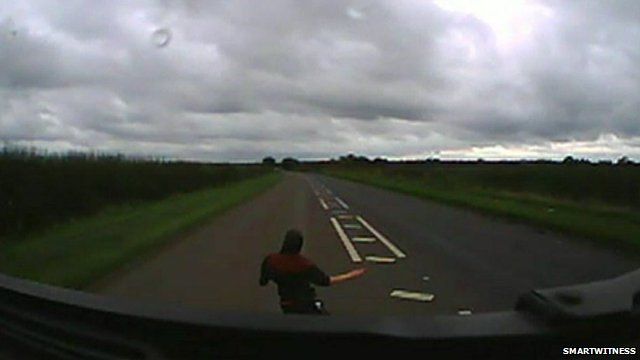 Video
Teenager survives being hit by HGV on A449 in Staffordshire
Police have issued a warning about the dangers of crossing busy roads after dramatic footage was released showing a teenage boy being hit by an HGV.
The 14-year-old appears to run on to the A449 at Dunston, in Staffordshire, with a friend as the vehicle approaches them.
One boy makes it across, but the teenager is hit by the lorry and rolls forwards on the road before getting up seemingly unscathed.
A dashboard camera showed the vehicle was travelling at 45mph (73kph).
Staffordshire Police said the boy was taken to New Cross Hospital in Wolverhampton with minor injuries to his hand and knee.
The incident, in October, was looked into and no further action was taken against any parties, a spokesman said.
"We would advise people to exercise caution when crossing any road and, if at all possible, use a pedestrian crossing," he said.
"If one is not available please cross only when it is safe to do so."